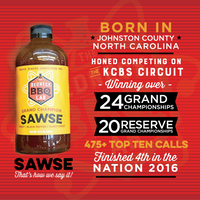 Championship Level BBQ
The Redneck BBQ Lab products give you the ability to produce World Championship winning BBQ in your backyard. Born, tested, and honed all over the United States on the national Kansas City BBQ Society (KCBS) national trail over the past eight years, these sawses and rubs helped our competition BBQ team win hundreds of thousands of dollars in earnings. They can also help you win big in your backyard for your family and friends!

"Proven. Winning. World Championship. BBQ." is not just a slogan we gave ourselves…it's something we worked for and earned.
ORDER NOW
Our Rubs
All Purpose Rub

Beef Rub

Chicken & Rib Rub
Cornbread
The Redneck BBQ Lab Cornbread mix is a culmination of years of research and development that was finalized by the most stringent testing panel of people in America: Our customers and my Mother. Sweet corn and moisture describe the first bite you take of our cornbread. Easy to make using some of our mix, egg, water, and butter.
Bake it or fry it, It's up to you! Just do not be lulled into believing that you will have any leftovers!
ORDER NOW